Phi Delta Theta Fraternity
Texas Eta Chapter Alumni Association
Chapter Grand
Delton Chandler #12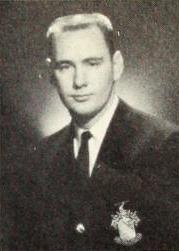 Services for Delton L. Chandler, 49, of Lufkin, were held Thursday, January 17, 1991 in the Denman Avenue Baptist Church with the Rev. Charles Roberts officiating, burial in the Garden of Memories Memorial Park.
Mr. Chandler was born April 14, 1941 in Center, Texas and died Tuesday, January 15, 1991 in Lufkin. He was the MIS Director at Texas Foundries for 25 years. He was a member of Denman Avenue Baptist Church. A previous resident of Houston, Texas, he had lived in Lufkin for 26 years. He was a 1963 graduate of Stephen F. Austin State University and a member of Phi Delta Theta Fraternity and of the American Cancer Society.
Survivors: Wife, Kathye Chandler of Lufkin. Daughters, Christi Chandler of Houston and April Hardin of Lufkin. Son and daughter-in-law, David and Rhonda Chandler of Lufkin. Parents, Mr. and Mrs. Buren Chandler of Lufkin. Sister and brother-in-law, Ethelda "Scooter" and Chester Davis of Lufkin.