Phi Delta Theta Fraternity
Texas Eta Chapter Alumni Association
Chapter Grand
Mac R. Moseley #69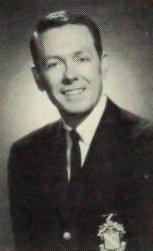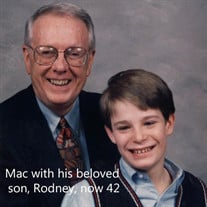 Obituary for Dr. Mac R. Moseley
July 17, 1931, was destined to be just another hot, summer day until about 5 am. I was born. My parents lived in Tyler, but drove to Jacksonville for my arrival. Sweetheart (my mother) thought no one would be able to successfully deliver a baby except Dr. R.T. Travis of Nan Travis Hospital. Probably a good thought since I weighed in at 9 lbs. 10 oz. (The announcement in the paper said 10 lbs. 9 oz. Oh well...)

Growing up in Tyler was without significant incident and I was a happy little guy. I was an only child but lived next door to the deMontel kids, Ted, Marjo, and Jean, and we didn't know whose house was whose. I woke them every year on Christmas Day laden with Santa Clause loot since their dad would not let them open their gifts until they had had breakfast. Give me a break! By the time they got around to opening their presents, they had broken almost all of mine.

At age 9, I walked down the aisle of First Baptist Church in Tyler and took Dr. Bailes' hand to be "saved". Jean had done that several weeks before, and I decided that if I did it, she would quit biting me, a habit she had developed causing me some concern, not to mention pain.

So, the years flew by and, after graduation from Tyler High, I was off to Baylor. Following teaching jobs in Waco, Ft. Worth, and Greeley, Colorado, I headed to San Francisco for a Masters degree in my 1950 Chevrolet loaded with possessions. I had received a fellowship, which covered all expenses, called the Crown-Zellerbach Award. Now I would not have been eligible to be one of the 1500 applicants had I not lived in Colorado. That was a God thing. He enabled me to move to Greeley to be eligible for that Fellowship and, more miraculously, to get it. He was controlling events in my life even though that trek down the aisle at age 9 got me Church membership, not salvation.

It took me many years to realize that I was living the life of a carnal Christian, or worse, a non-Christian. It was while living in Houston completing my doctorate that I faced my dilemma. Jesus said in His word "you are neither hot nor cold and I will spew you out of my mouth". That thought was frightening, so one Sunday morning as I sat on the back row of First Baptist Church in Houston, I asked Jesus to change my life and give me his Spirit of Sonship. Nothing happened. No lightning, no thunder, no tongues of fire, but following that event things began to change as I allowed Him to direct my thinking and my life. Had it not been for God's intervention I would have missed the deadline for completion of my doctorate.

Everything that happened in my life since that day has been God Led and God enabled. He brought me to Texas Eastern University (now UT Tyler), gave me a department chairmanship and the position of Dean. He led me to Oregon to work with the Luis Palau Evangelistic Association, led me in helping develop Breckenridge Village and Bethesda Health Clinic. The most eventful blessing from God has been the adoption of Rodney, my wonderful son, who gave me new purpose and joy. We had some terrific times living in Oregon, traveling all over the Pacific Northwest, living in Plano, and in Tyler where so many people showed love to him, and to me. I have been truly blessed throughout my life and am so grateful to the many of you who have been a part of that blessing.

As I write this, I am very much alive and kicking. I wanted to write it myself, however, in order to give proper credit to the One who was responsible for anything good I may have done. The bad stuff was all mine, but God was always there to reach out and lift me up toward fulfilling His plan. He is still working to perfect his creation, but as you read this, He has accomplished that plan. I am with Him and enjoying the benefits of having made that Profession of Faith while sitting on the back row of that Houston church.

It is my prayer that you will join me here where there are no more tears, there is no more sorrow, and we all know as we are known. As Jesus welcomes you, I will be in the receiving line with open arms.

Join us for a celebration of Mac's life at Stewart Family Funeral Home on Friday, April 22, 2022 at 2:00 p.m. Reception following service in Stewart Family Funeral Home Hospitality Room.

To send flowers or a memorial gift to the family of Dr. Mac R. Moseley please visit our Sympathy Store.