Phi Delta Theta Fraternity
Texas Eta Chapter Alumni Association
Chapter Grand
Tom Kingham #262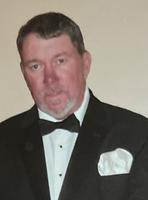 Tom B. Kingham of Nacogdoches passed away December 17, 2020, in Galveston at the age of 67. He was born April 10, 1953, in Nacogdoches to parents James Ellis Kingham and Mary Elizabeth (Lucas) Kingham.
Tom, better known as "Brother", was born, raised, and educated in Nacogdoches. He earned his B.S. Degree from Stephen F. Austin State University in 1976 with an Agriculture Major and Criminal Justice Minor. He was the former owner of J.E. Kingham Construction with his three brothers, three of which are still managing the company today. He was an avid outdoorsman and gun collector. He was a member of C.S.A.T., Meadow Ridge Archery & Guns, and Galveston Gun Clubs.
Mr. Kingham married his wife, Norma, on November 25, 2000. After retiring, they bought a house in the Sea Isle subdivision on Galveston Island and spent about 80% of their time there. Tom had a witty, funny personality. He enjoyed duck hunting, watching sports, going to the beach, and hanging out at the marina. A structured man by nature, Tom went to the gun range every day at 3:00 p.m.
Mr. Kingham was preceded in death by his parents, Jim and Beth Kingham.
He is survived by his wife of 20 years, Norma Kingham of Nacogdoches; daughter, Katie Helton and husband Thomas of Katy; son, Ellis Kingham of Houston; step-daughters, Denise Bradley of Southlake and Deanna Bradley of Florida; step-son, Brian Bradley of Nacogdoches; brothers, Jim Kingham and wife Jan of Lufkin, John Kingham and wife Alva of Nacogdoches, and Bob Kingham and wife Reesa of Nacogdoches; grandchildren, Lucas Dixon Helton, Emma Katherine Helton, Camilla Joyce Helton all of Katy; Rachael Bowen and husband Cameron of Waxahachie, Justin Renfro and wife Emily of Lake Charles, Madison Chilcutt of Southlake, and Tanner Bradley and Nicholas Bradley, both of Nacogdoches; Hannah Bradley, of Florida; nieces, Jill Croft of Denver, Laura Hill of Houston, Sarah Kingham of Austin, and Caroline Kingham of Charlotte; great-grandchildren, Lucas Renfro of Lake Charles, Jace Bowen, and Zoe Bowen, both of Waxahachie; nephews, Jay Kingham and Luke Kingham, both of Houston; 4 great-nieces; and 2 great-nephews.
Private graveside services were held at Sunset Memorial Park.
In lieu of flowers, memorial contributions may be made to St. Jude Children's Research Hospital.
Arrangements are under the direction of Cason Monk-Metcalf Funeral Directors, Nacogdoches.
https://www.dignitymemorial.com/obituaries/nacogdoches-tx/tom-kingham-9955207