Phi Delta Theta Fraternity
Texas Eta Chapter Alumni Association
Chapter Grand
Brad Stansbury #690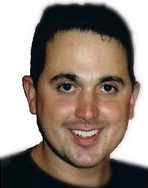 Brad Christopher Stansbury, 39, passed away at his home in Pittsburg, TX Thursday, June 4, 2015. Mr. Stansbury was born July 20, 1975 in Longview, TX to Roger Stansbury and Deborah Patterson. He attended and graduated from Pittsburg High School, Class of 1993. He received his Bachelors of Business Administration from Stephen F. Austin State University in 1998 and was a member of Phi Delta Theta Fraternity. Brad will be remembered as a friendly, outgoing and fun loving person as well as a hard worker. He was an avid outdoorsman, who especially enjoyed fishing. Brad was proud of his relationship with Christ and was an active member of The Woodlands Church in Humble, where he enjoyed being part of the social ministry. Most importantly though, he was a devoted and loving father to his two wonderful children, Bella and Kaleb. He meant the world to his family and will be deeply missed.
Brad is survived by his father, Roger Stansbury of Pittsburgh and mother, Dr. Deborah A. Patterson also of Pittsburg as well as his two children Kaleb Christopher Stansbury and Isabella Grace Stansbury, both of Humble, TX, Brothers: Brock Stansbury of Lewisville, TX, Blake Stansbury and wife Cinnamon of Elkmont, AL and Brett Stansbury and wife Olivia of Colorado Springs, CO, Nieces: Brook and Annabel Stansbury of Lewisville, TX, and Alyssa and Emma Stansbury of Elkmont, AL. Also left to cherish his memory are paternal grandparents Seldon and Alline Stansbury of Pittsburg, Aunts; Connie Losado and husband Gary of Southlake, TX and Melanie Seale and husband Randy of Houston, TX and cousins Tyler Seale, Taylor Seale, Morgan Seale, Cara Losado and Nick Losado and wife Kathy.
Funeral services will be at 3:00 PM Monday, June 8th at Erman Smith Funeral Home in Pittsburg. Visitation will be from 1:30 PM Monday until service time.